Jordan Rodgers and JoJo Fletcher were judges on this week's episode of The Bachelor Presents: Listen to Your Heart. They also tweeted during the airing of the show, and it made Rodgers realize something. He's happy he didn't meet Fletcher on a musical talent show.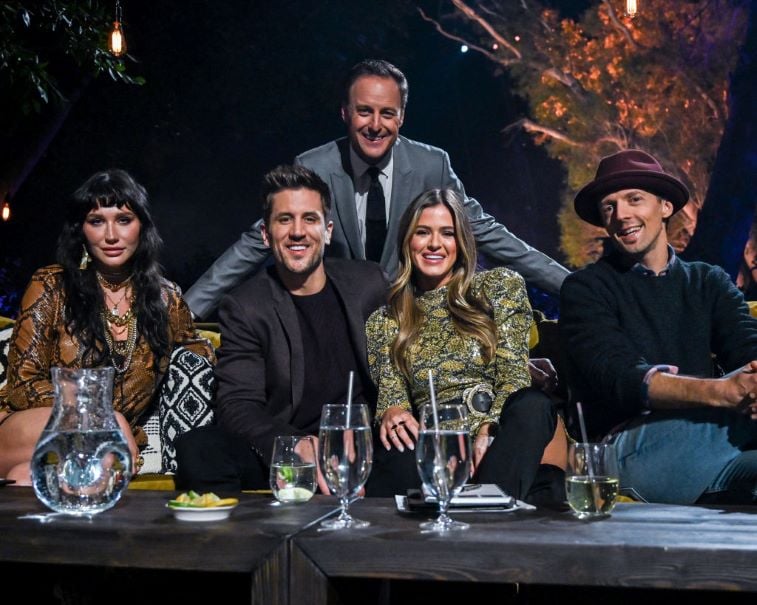 Jordan Rodgers and JoJo Fletcher were judges on 'The Bachelor Presents: Listen to Your Heart'
In this week's episode, the remaining seven couples prepared for their first judged performances. Chris Harrison and the producers chose a song for each pair.
At the live concert, The Bachelor couple sat cuddled together to watch and critique each song. We saw them bopping along to the music during certain songs.
"I was feeling that," Fletcher said about Matt and Rudi's performance. "Rudi, girl, your voice makes me feel a type of way. To be honest, the relationship part we're supposed to be judging off of intimacy and connection. I think you guys enjoy each other. I think you're having fun. I don't know where that's going to go, but I enjoyed that performance."
Rodgers got excited when Julia Rae and Sheridan Reed performed The Backstreet Boys, "As Long As You Love Me." He's a huge fan. The couple had a great time together, judging each performance. With the help of Kesha and Jason Mraz, they decided on the six couples that were to stay. They sent Ruby Jane Smith and Danny Padilla home.
Why is Jordan Rodgers happy he didn't meet JoJo Fletcher on 'The Bachelor Presents: Listen to Your Heart'?
Rodgers and Fletcher watched the episode together, tweeted along with the show, and had a lot of fun with it.
"Guys— can I just say I've never seen Jordan's fingers move this fast in my life," tweeted Fletcher. "Living for this live tweet and the Backstreet Boys questions."
While Rodgers had fun talking about his favorite boy band to fans. He also had a great time making fun of his soon-to-be wife.
"Currently, Joelle Fletcher is practicing these songs out loud with the couples on the TV," Jordan tweeted. "I love her. But I'm glad we met on a show that didn't involve singing."
It sounds like he doesn't' think she has a very great singing voice. Her response was classic, "Ugh. Bye."
Fletcher later admitted the singing competition would not have worked for her and Rodgers
"OK, let's be honest, though," Fletcher tweeted later. "Can you imagine Jordan and I trying to keep a straight face while serenading one another?"
A few fans commented that they would love to see it anyway. However, the couple will stick to being judges. Fletcher also added that they would like to see Ed Sheeran sing at their wedding. The two hope to get married late summer 2020; however, they might postpone due to the coronavirus (COVID-19).
Next week's episode of The Bachelor Presents: Listen to Your Heart will feature new judges — Andy Grammer, Toni Braxton, and Rachel Lindsay and Bryan Abasolo.
Source: Read Full Article