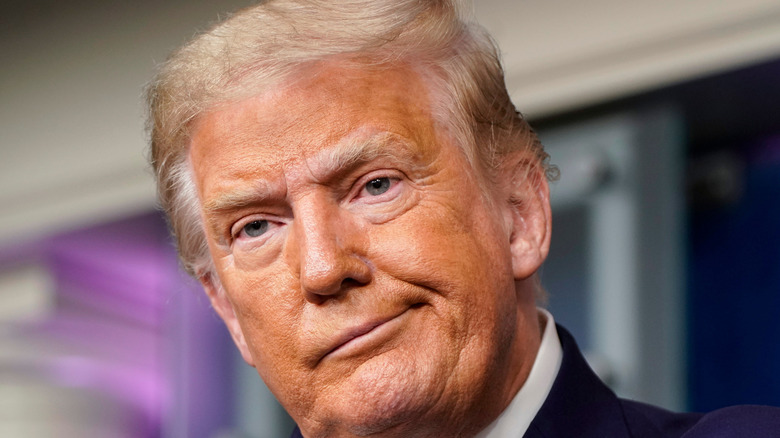 The world was at a loss for words when former president Donald Trump took to his favorite social media platform and tweeted that he and his wife, Melania Trump, had been diagnosed with COVID-19 in October 2020. It was truly shocking to hear the former reality television star admit that he and the first lady had fallen ill with a virus he spent the majority of the year downplaying and spreading false information about — to be honest, none of us thought we'd see the day (via The Atlantic).
What was even more shocking was that shortly after his tweet was sent out, Trump was airlifted to Walter Reed National Military Medical Center, where he spent three days receiving treatments that were not widely available to the millions of people who had contracted the illness, including the 500,000+ people who died as a result of COVID-19 (via CNN). "It was like, unbelievable," he said of the experimental Regeneron cocktail days after being released from the hospital. "I felt good immediately. I felt as good three days ago as I do now."
Trump also took to Twitter when he returned to the White House, telling his followers, "Don't be afraid of Covid. Don't let it dominate your life. We have developed, under the Trump Administration, some really great drugs & knowledge. I feel better than I did 20 years ago!" But what actually happened during Trump's battle with the illness? 
Donald Trump's bout with COVID was way worse than he let on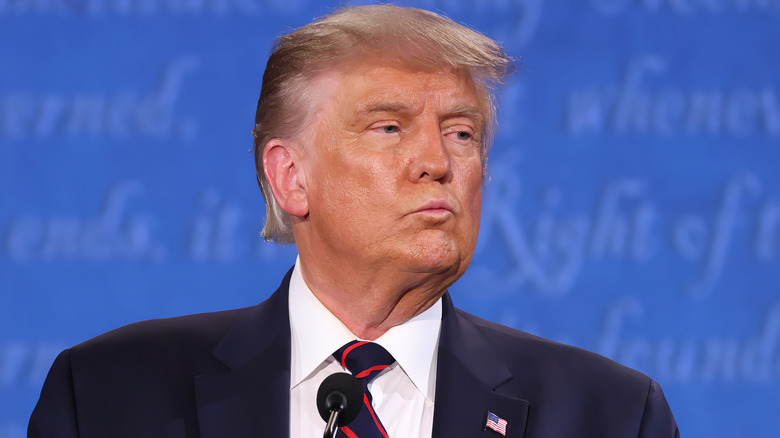 As we all know, the coronavirus impacts the respiratory system and can make it difficult for those infected with the virus to breathe (via WebMD). So when a video of Donald Trump running up the stairs of the White House like he was trying to be Rocky Balboa while seriously struggling to breathe started making the rounds on social media (via Business Insider), people from all over wondered if Trump was really feeling as good as he led people to think.
In a new book titled "Nightmare Scenario: Inside the Trump Administration's Response to the Pandemic That Changed History," written by The Washington Post's Damian Paletta and Yasmeen Abutaleb, the reporters allege that Trump's aides were seriously concerned that the president might die of COVID-19. They also report in the book that his condition was worse than he let on, as his oxygen levels dipped into the 80s at one point and he was put on oxygen in order to stabilize him. The reporters also allege that doctors had considered putting Trump on a ventilator.
"At least two of those who were briefed on Trump's medical condition that weekend said he was gravely ill and feared that he wouldn't make it out of Walter Reed," an adapted excerpt from "Nightmare Scenario" reads (via The Washington Post). "People close to Trump's chief of staff, Mark Meadows, said he was consumed with fear that Trump might die."
Donald Trump's battle with COVID didn't change his perspective on the pandemic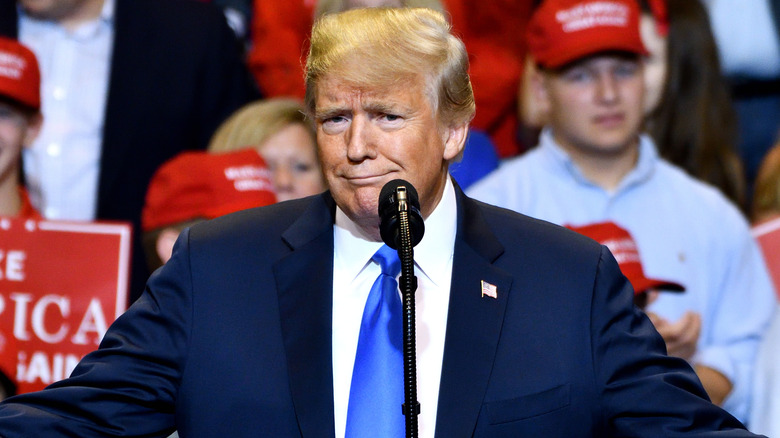 We're stating the obvious here, but once Donald Trump returned to the White House after his near-death experience with the virus, he continued to push out misinformation about COVID-19 and even held maskless rallies after his release from the hospital (via The Guardian).
In Damian Paletta and Yasmeen Abutaleb's book, "Nightmare Scenario: Inside the Trump Administration's Response to the Pandemic That Changed History," the reporters allege that Centers for Disease Control and Prevention director Robert Redfield — who Trump's team of doctors called after his diagnosis — hoped that Trump's experience would change him and his message about COVID-19, the dangers of the disease, how to best prevent it, and more. 
"Redfield was watching on television from home. He was praying as Trump went up the steps. Praying that he would reach the balcony and show some humility. That he would remind people that anyone could be susceptible to the coronavirus — even the president, the first lady and their son," an excerpt from the book reads (via The Washington Post). "That he would tell them how they could protect themselves and their loved ones." 
However, after Trump made a show of running up the White House stairs, Redfield knew that the COVID-19 nightmare in the White House — and America — would remain the same. "Right then, Redfield knew it was over. Trump showed in that moment that he hadn't changed at all," the excerpt reads. "The pandemic response wasn't going to change, either."
Source: Read Full Article