While most of us have no tears left to cry after looking at our bank accounts, Ariana Grande has a balance even higher than her ponytail. Which, as we all know, is high AF.
At 29 years old, Ariana is worth millions of dollars—and not just thanks to her music. She's also enjoyed a lucrative career as a Nickelodeon actress, plus that iconic stint on Scream Queens, and has scored a slew of impressive endorsement deals. Here's a breakdown of Ari's assets to make you equal parts jealous, impressed, and weepy.
She Made Bank on Nickelodeon's Victorious
Of the 57 episodes of Victorious that Ariana appeared in between 2010 and 2013, how many did you see? TMZ got ahold of her contract, so we know she made $9,000 per episode in the first season alone. She also pocketed about $7.5K for music used in the show!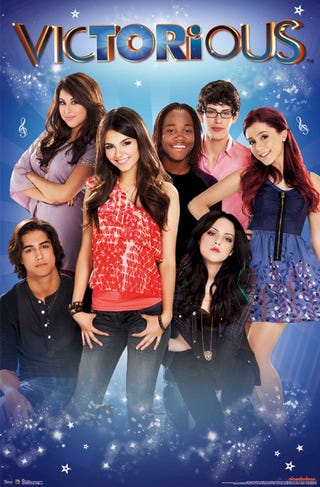 Assuming her salary stayed at $9K/episode (TBH, it would be sort of surprising if she never got a raise), our calculator tells us she made $513,000 just from Victorious. That's more than half a million dollars! Ariana was also on a season of Sam & Cat, as well as the first season of Scream Queens, although her income from those bad boys isn't readily available for nosy peeps on the internet. Sad.
Ariana is back in her acting bag and is starring as Glinda the Good Witch in the film adaptation of Wicked. So, needless to say, Ari will likely be paid a ginormous amount for her role in the movie—as she should!
She Cashed a Nice Check From 'The Voice' Too
Ariana was a coach on season 21 of NBC's The Voice and it was truly a moment in time. While it was definitely fun for viewers to watch, Ari undoubtedly had the best time because she was estimated to bring home up to $25 million from the show. FYI, this is about $10 million more than what Kelly Clarkson (!!!!) got when she joined the judges cast. Casual!
Her Concert Sales Are the Opposite of Shabby
Ariana's 2017 Dangerous Woman tour spanned five continents and ended up grossing a casual $71 million in just seven months. OH, and apparently, she was making "over $50,000 in merchandise every night" on top of that. Shout-out to all the people who waited in endlessly long lines to buy tees with bunny ears on them!
The singer's 2015 Honeymoon tour made $40 million during an eight-month run—which, again, ain't too shabby. But it's her Sweetener World Tour that really made bank. According to Billboard, it grossed $106.9 million in the U.S. alone, with a worldwide total of $243.5 million. 😱
Oh, and remember when she headlined Coachella in 2019? Not only did she make history by being the youngest person to ever headline the festival at 25-years-old, she also reportedly made $8 million off the gig, too.
https://www.instagram.com/p/BwkpjZHhnoo/?utm_source=ig_embed&utm_campaign=loading
A post shared by Ariana Grande Updates (@updatesgrande)
She's Made a $hit Ton on Her Singles
Hits like "Thank U, Next" and "Side to Side" helped Ariana rake in bucketloads of money. Specifically, $29.5 million from single downloads as of 2018. In other words, more money than most of us will see in our lifetimes! It's fine! Totally not having a meltdown about my finances! No worries!
She Has Major Endorsement Deals
Like most celebrities, our girl Ari works with brands that pay her $$ for her endorsements. She was the face of a Givenchy campaign, a gig that presumably earns her some major coin. Aside from that, she's worked with other major brands, like Coach, Starbucks, T-Mobile, MAC, Reebok, and more.
She's Becoming a Beauty Maven
Ariana has also walked in the illustrious footsteps of celebs like Britney Spears and Paris Hilton by releasing her own line of perfumes, which reportedly grossed $150 million in 2017, back when she just had three scents. Now, our girl has eight (!!) fragrances and they have a cult following—aka Ari's fifth fragrance Cloud sold every 11 seconds in 2021, according to The Zoe Report. To top it all off, Ariana also just released a body care line this summer in tandem with her latest fragrance God Is A Woman.
A post shared by Ariana Grande (@arianagrande)
After success in the fragrance realm, Ari expanded her budding beauty empire with a makeup line r.e.m. beauty, which launched November 2021. It was met with mixed reviews, but in March, Ari launched a "chapter 2" of the line, which has seen success.
https://www.instagram.com/p/CbXeSBMrpGE/?utm_source=ig_embed&utm_campaign=loading
A post shared by Ariana Grande (@arianagrande)
She Married Her Husband, Dalton Gomez, Which Might Give Her Net Worth a Lil Bump
Okay, to be clear, Ariana's own net worth outweighs pretty much everyone else's, but when she went ahead and married her now-husband, Dalton Gomez, that might've given her bank account the teeniest-tiniest of bumps. Dalton's net worth is reportedly $20 million, so depending on their prenup situation, that may now factor into Ariana's own fortune.
So, What's Her Total Net Worth?
According to Celebrity Net Worth, that would be about $240 million—which is up from the $180 million to her name just last year. And while this hefty chunk of change might sound small compared to Taylor Swift's or Katy Perry's net worth, you gotta remember things like taxes, overhead, and the fact that Ariana herself takes home only a portion of what her music, merch, and products actually gross.
Regardless, $240 million is a LOT of money, so I'm gonna be over here in the corner pulling a Dawson:
Source: Read Full Article