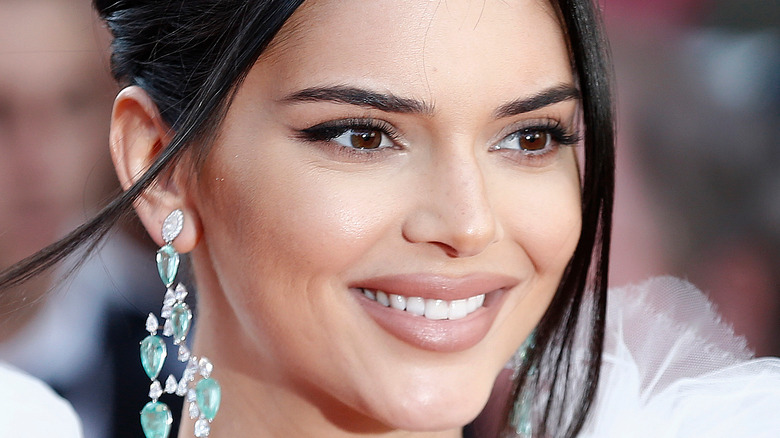 Kendall Jenner is no stranger to being in the spotlight, having been catapulted into reality television stardom in 2007, thanks to the mega-success of "Keeping Up With The Kardashians." Throughout the last decade and a half, fans have watched the leggy supermodel blossom before their very eyes; however, unlike her famous sisters, the young reality star has been ultra-careful about keeping certain aspects of her life private — like who she dates.
"I'm very young and right now I feel like relationships aren't always super-certain and I don't want to bring too much attention to something if you don't really know long term [what it's going to be]," the supermodel told Vogue in May 2019 (via Us Weekly). "A relationship is only meant to be between two people, and the second you make it the world's business is when it starts messing with the two people mentally. Like once everyone is let in, you're letting all these opinions into your relationships, and I don't think that's fair."
And just because Jenner likes keeping her love life mostly private, that doesn't mean her relationships — both rumored and confirmed — haven't been gracing headlines for years.
Kendall was first linked to Harry Styles in 2014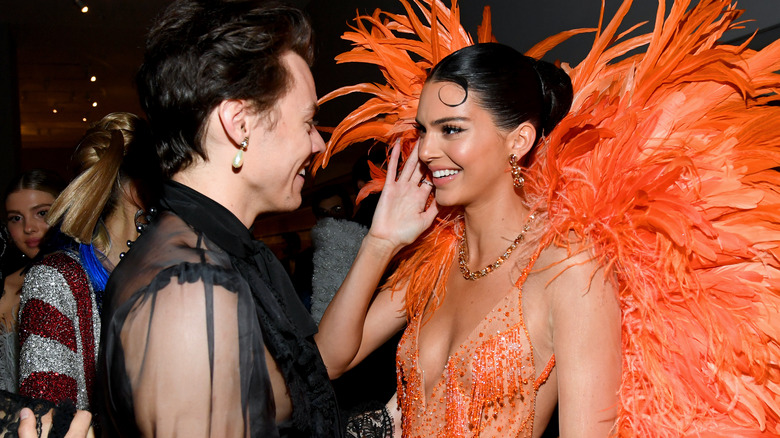 Kendall Jenner and former One Direction singer Harry Styles sparked romance rumors in 2014 after they were spotted getting cozy at dinner together and went skiing in Mammoth Mountain in California (via Us Weekly). A year later, the "Keeping Up With The Kardashians" star and the "Adore You" crooner were spotted engaging in some serious PDA while hanging out on a yacht in St. Barts, further fueling romance rumors.
"Why are they a good match? Well, they're both super hot, super great, sweet people," Kendall's sister Khloe Kardashian told E! News at the time. "And if I'm on a yacht in St. Barts if I'm — how old is she, 20? He's 20? — Hey, I ain't mad at you, Kenny. Do your thing, girl!" And although the pair never officially confirmed their romance, they've remained friends throughout the years, and momager Kris Jenner finally spilled the beans about their relationship during a Zoom appearance on "The Ellen Degeneres Show" this year while playing the game "Never Have I Ever."
"Never have my kids ever dated someone from a boyband," Degeneres said to Jenner, to which the "KUWTK" star held up a sign that read, "They have" (via Elle). Degeneres followed up with, "Well, of course, Kendall, right? And Harry?" Jenner confirmed with a "Yeah," then added, "There are some rappers mixed in there."
Kendall was also linked to this former Disney star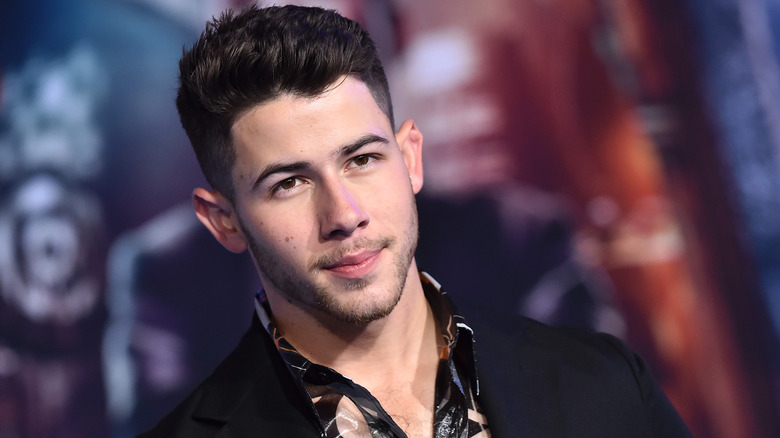 Kendall Jenner and Nick Jonas reportedly had a brief fling in 2015 after being set up by Jenner's model friend, Gigi Hadid, who was dating Nick's brother, Joe Jonas, at the time. However, their alleged romance was apparently short-lived, as sources told New York Daily News that the "Levels" singer found her personality "annoying."
"They hung out in Vegas and then hung out one or two other times," the insider familiar with the situation told the outlet in 2015. "He thinks she's hot, but he thought she was a little annoying and just not his type. He didn't really want anything to do with it, but Kendall was definitely interested in dating him. She's hoping he'll ask her out again, but he won't."
Nick carefully addressed the romance rumors between himself and Jenner at the time, telling E! News that the pair are spotted together now and again because they run in the same social circle. "Kendall is great and, naturally, with her being good friends with Gigi and with Joe and Gigi dating, there are times we'll be in the same place and we all hang out," he said.
Kendall had brief flings with a NBA star and a rapper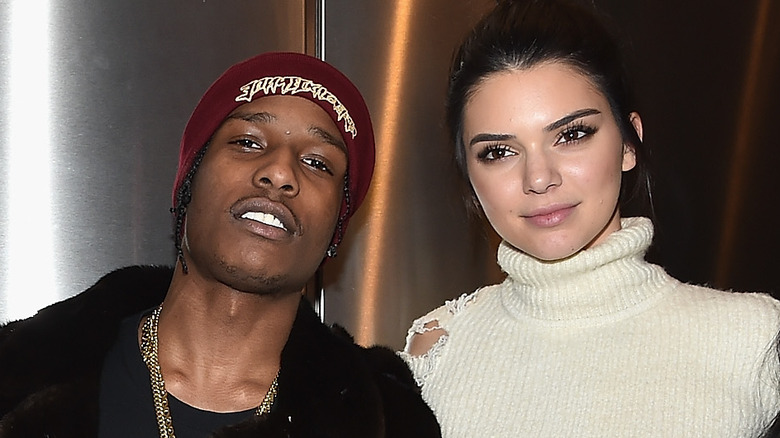 Per Us Weekly, Kendall Jenner and NBA star Jordan Clarkson were rumored to have started dating in March 2016, attending Coachella together the following month. However, their romance reportedly fizzled out quickly, and Jenner denied their rumored romance in 2019 after a fan jokingly tweeted about the reality star dating an "all-star" lineup of NBA players (via Cavaliers Nation).
A few months later, things between Jenner and rapper A$AP Rocky reportedly began heating up, and the pair attended the Met Gala together in August 2017. While Jenner never confirmed their relationship, she did open up about keeping her love life private in an interview with Harper's Bazaar the same year. "I'm not marrying anyone. I'm not engaged. There's nothing long-term or serious like that in my life," she said. "If I'm not fully, fully in it with someone, why would I make it public to everyone else? If I don't even know what it is, why would I let the world know?"
"I think it's something sacred. It's something between two people, and nobody else's opinion needs to be involved in it. People want to start drama," she continued, adding, "If I had a boyfriend, people are going to say all this stuff that's probably going to cause us to break up. I'm doing my thing. I'm having fun. I'm being young."
Kendall and Blake started dating in 2017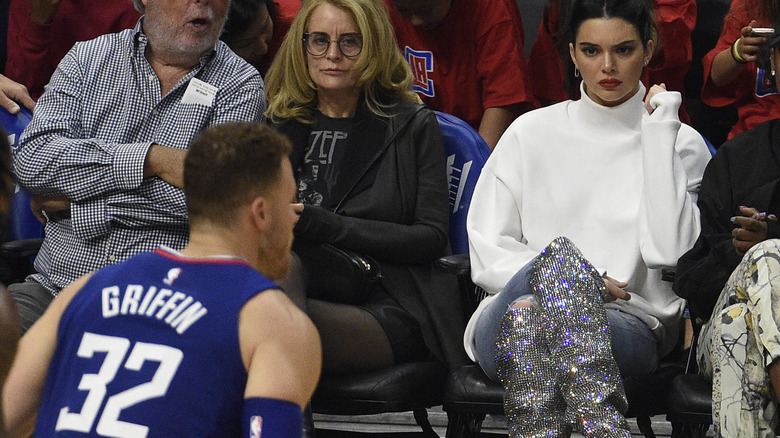 In September 2017, Kendall Jenner and Blake Griffin fueled romance rumors after being spotted out and about together multiple times. "She's seeing Blake romantically," a source told People at the time. "It's nothing serious. She has been in L.A. a lot lately, and is having fun. Work will soon take over her life again, so who knows what will happen will Blake then. She is having fun right now and that's all that matters to her. She takes her career very seriously and that's her number one priority right now."
The pair continued their low-key romance through the end of 2017; however, after Griffin was spotted holding hands with a mystery woman after the holidays, rumors of a split started to plague the couple. "Blake and Kendall have been cooling off recently, but they're not officially broken up," a source dished to People in January 2018.
After Griffin was traded to the Detroit Pistons a month later, their romance seemingly cooled off for good. "They've definitely cooled off and are taking things at a slower pace, but not because of any particular drama," an insider revealed. "He got traded and isn't local anymore, so they've grown apart a bit just because of distance. They're still involved."
Kendall dated (another) NBA player for a couple of years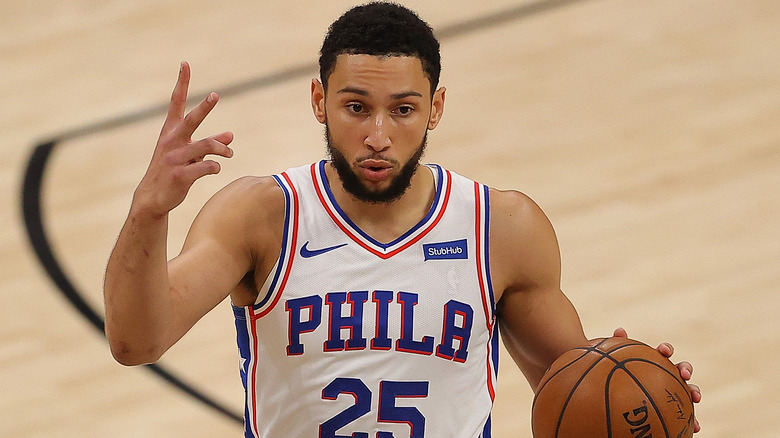 According to Elle, Kendall Jenner and NBA point guard Ben Simmons had an on-again, off-again relationship from 2018 to 2020. The outlet reports that the pair first got together in May 2018 then split at the end of the summer, only to rekindle their romance a few months later. The couple lasted until May 2019, took a break, then got back together at the end of the year.
A source close to the couple explained their roller-coaster relationship to People in January 2020, saying, "Kendall always liked Ben. They always have the best time together. They are dating and seem happy for now. They have both had a lot of time to see each other. As soon as they get busy with their careers, it kind of fizzles out. But for now, everything is great."
"They've been on and off and there are periods where they definitely lost touch, but they've always had their eye on one another," a second source added. "Their breakup always seemed more like a break because of careers and distance."
Kendall went Instagram official with her current boyfriend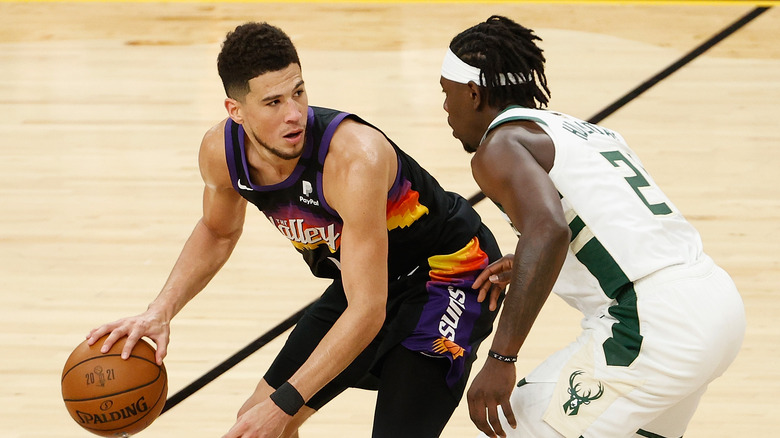 It's safe to say Kendall Jenner has a type — and there's nothing wrong with that! The model was first linked to NBA star Devin Booker after the pair were spotted on a road trip to Sedona, Arizona together in April 2020. "They're hooking up, but they're not serious," a source told Us Weekly at the time. "She's talking to a couple different guys. She has so many men after her it's crazy."
Jenner and Booker pretty much confirmed their relationship in February 2021 after the "KUWTK" star posted a cute snap of Booker cuddling her on her Instagram Story, and a source told Us Weekly the following month that the pair were 100% together. "They are definitely an item and care about one another immensely. But it's not like they will be getting engaged any time soon," they explained. "Kendall likes the pace at which things are going at the moment and has no plans to elevate things so quickly."
In June, Jenner shared photos of the pair on her Instagram Story to mark their one-year anniversary, simply captioning the collection of rare photos, "365."
Source: Read Full Article