Prom is no longer just the ultimate high school experience or the pinnacle of school dances. Thanks to social media, influencers, and a camera on every phone, prom has morphed into something much grander. Defined by stunning gowns, impeccable makeup, and carefully curated posts, today, it's the ultimate fashion show for teens — the Met Gala of high school, if you will.
Making an impression begins with not just finding the right outfit, but finding the right look. The dress is one thing, but for the ultimate style statement, the hair, makeup, and accessories all need to coordinate. It comes down to finding an overall theme or aesthetic that marries your personal style and your prom-night vision.
While aesthetics like balletcore, Barbiecore, classicore, and romcom core have been popular lately, if you're looking for trendsetter status, we've scoped out five rising aesthetics that are about to blow up. These 2023 vibes transcend your typical prom trends and encompass an entire mood.
For even more prom inspo, be sure to check out the Disney original movie, "Prom Pact," premiering on Disney Channel on March 30 at 8 p.m. and available on Disney+ March 31. You can learn more about "Prom Pact" at DisneyPlusOriginals.Disney.com. Nothing will get you in the spirit more than following high school senior Mandy Yang's journey as she befriends the school jock in hopes his connected father can help her get into Harvard. The playful prom outfits alone are enough to warrant a watch.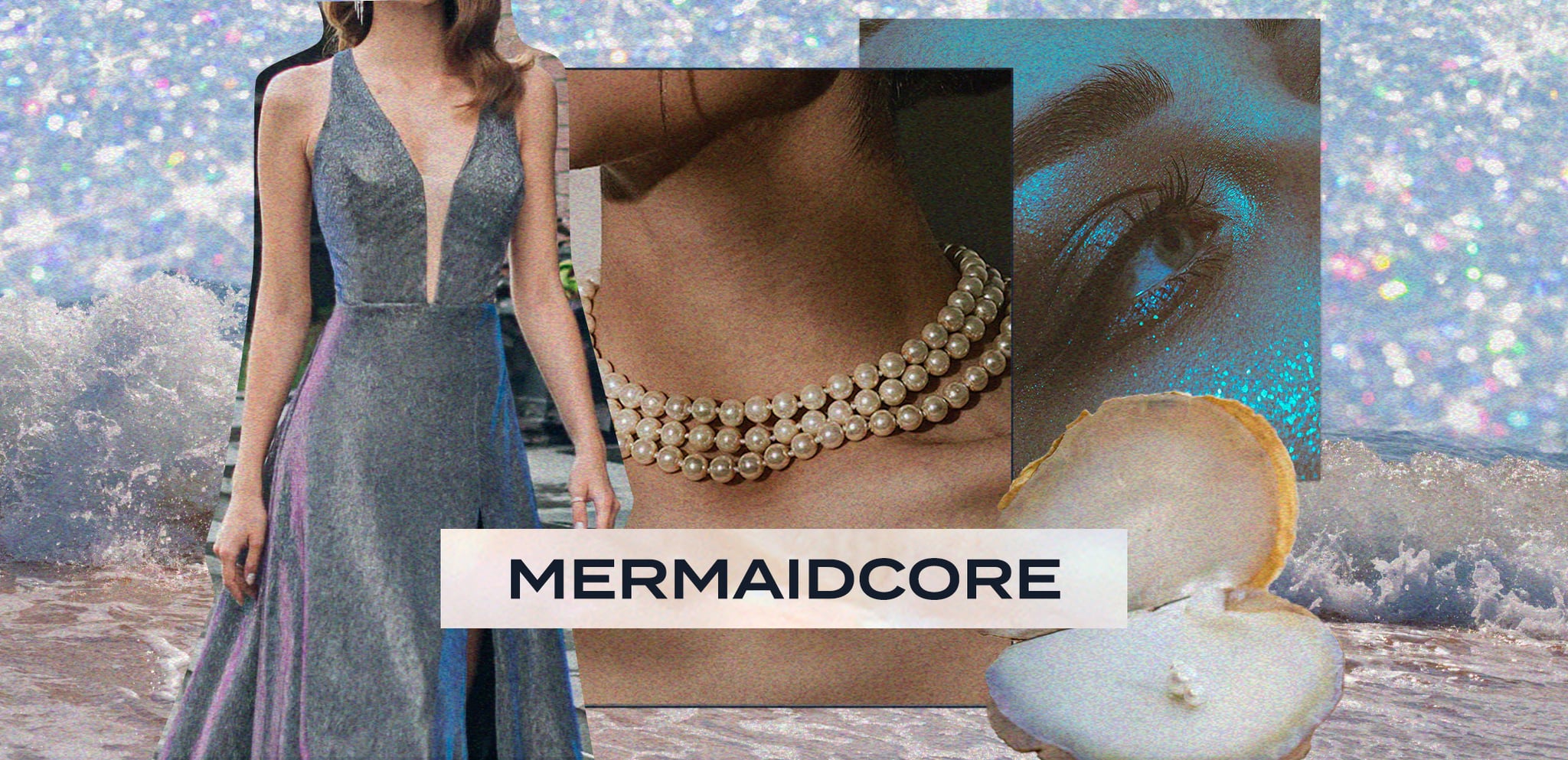 Sparkles, sequins, and shimmery fabrics tend to gain popularity during prom season, and thanks to the rise of this under-the-sea siren aesthetic, we can expect more of these light-reflecting looks to hit proms around the world. Defined by iridescent fabrics and all things ethereal, mermaidcore is arguably the trend to watch — and emulate — right now.
It's not just about glitter and seashells either, part of this trend's allure is the mermaid-esque silhouettes in the form of column dresses, fishtail hemlines, and bra-like tops. Cool tones are also a pillar of this trend with prominent pieces in shades of seaglass, ocean, and cobalt.
For makeup, keep lips simple with a natural, glossy shine. Body glitter is always welcome and feel free to get creative by placing pearls or excess shimmer around your eyes. This trend may be shine-heavy, but the key is not to overdo it in the glamour department. At heart, mermaidcore is all about appearing effortless and alluring.
Revolve Max Dress

$395

Buy Now

SHASHI Île Earrings

$78

Buy Now

ALIX NYC Metallic Mini Dress

$350

Buy Now

Revolve Mackenzie Midi Dress

$248

Buy Now

Santi Beaded Clutch

$218

Buy Now

Ulla Johnson Shell Earring

$250

Buy Now

Shruti Sancheti Bubble Maxi Dress

$230

Buy Now

Chan Luu Abalone Coin Earrings

$195

Buy Now

ASOS Disc Sequin Mini Dress

$225

Buy Now

Mac Duggal Shimmer Floral Sequin Gown

$798

Buy Now

Revolve Penelope Heel

$132

Buy Now

Mac Duggal Sequin Cocktail Dress

$358

Buy Now

Revolve Cleo Gown

$648

Buy Now

Lemon Drop Hairline Heels

$69

Buy Now

A.L.C.Moira Pleated Maxi Dress

$795

Buy Now

New Arrivals Sequin Maxi Dress

$790

Buy Now

LIKELY Shane Gown

$298

Buy Now

LAWLESS The Single One Eyeshadow

$21

Buy Now

Schutz Chessie Bright Sandals

$128

Buy Now

Retrofête Yesi Dress

$595

Buy Now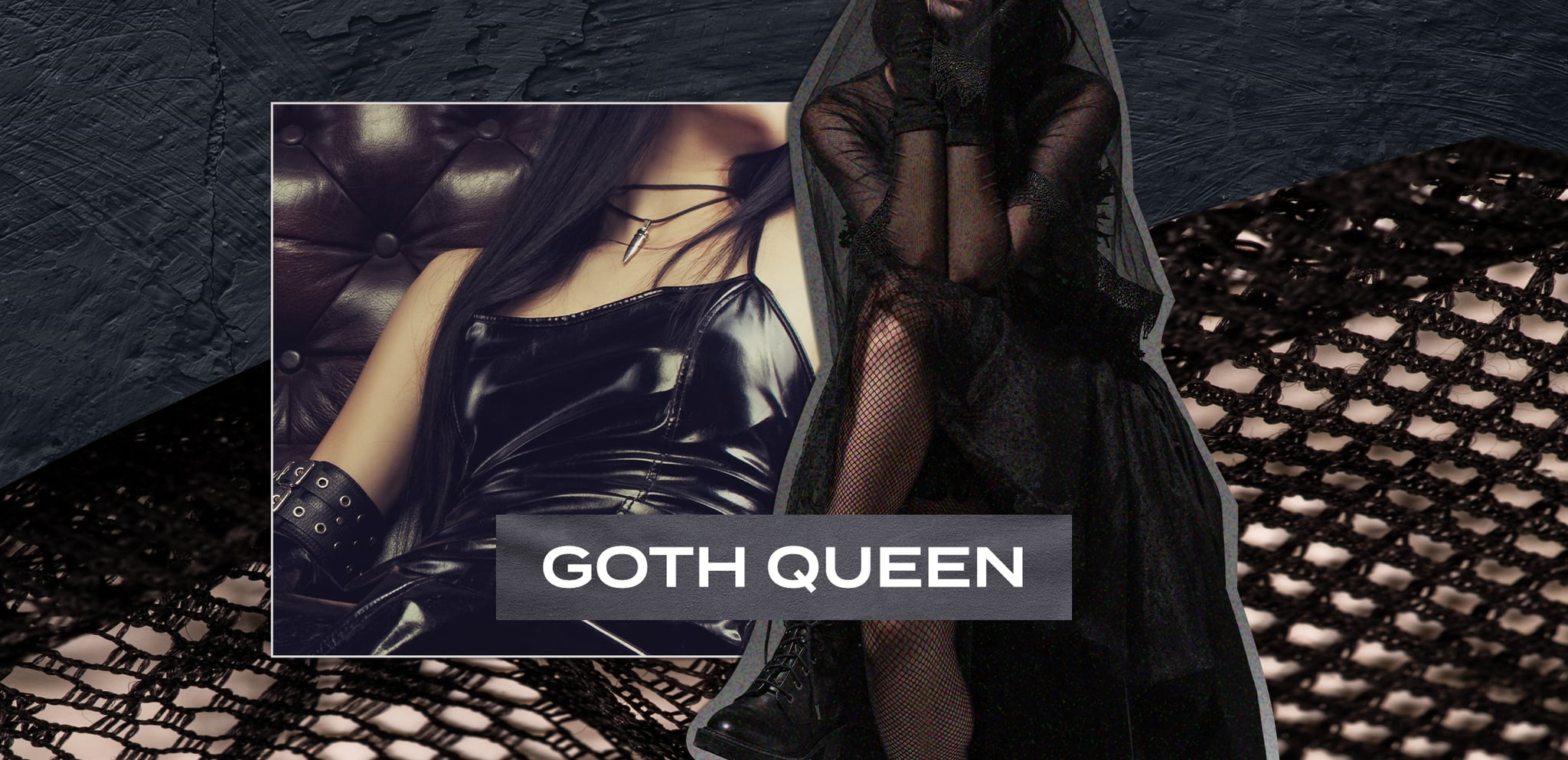 A little grunge, a little glam, and even a little preppy, 2023's goth queen aesthetic is much more elevated than the goth trend of decades past. Sure, fishnets, chokers, and gothic lace are all encouraged, but so are tulle, statement sleeves, organza, and light embellishments — as long as it's in black.
Ultimately, this trend is just as charming as it is dark and rebellious. Black is of course the cornerstone of this aesthetic followed by a mixture of textures like velvet, leather, and nylon. For a formal event like prom, consider a vampish, floor-skimming black gown or even a layered chiffon dress with sheer paneling for a more playful spin on the look.
Makeup should be dark and moody. Try a deep berry lipstick and kohl-lined eyes. Even a classic smoky eye complements this trend well. In a sea of primary-colored dresses, froufrou feathers, and sequins, channeling this vibe is a surefire way to stand out.
Significant Other Backless Column Gown

$286

Buy Now

Betsy & Adam Cape Sleeve Sheath Dress

$199

Buy Now

SHASHI Petunia Earrings

$58

Buy Now

AMUR Harlow Gown

$698

Buy Now

Loeffler Randall Woven Puff Clutch

$295

Buy Now

SIMKHAI Organza Sleeve Mini Dress

$395

Buy Now

Jeffrey Campbell Fluxx Sandal

$130

Buy Now

Milla Black Tulle Midi Dress

$470

Buy Now

BCBGMAXAZRIA Corset Tulle Gown

$498

Buy Now

Seychelles Gleaming Heels

$159

Buy Now

DVF Metallic Mesh Maxi Dress

$335

Buy Now

Melinda Maria Spiked Hoop Earrings

$120

Buy Now

Cult Gaia Gloves

$118

Buy Now

Simkhai Tulle Plisse Midi Dress

$795

Buy Now

bebe Vegan Leather Flare Dress

$169

Buy Now

Michael Costello x REVOLVE Alai Gown

$358

Buy Now

Montserrat Choker in Black

$95

Buy Now

Reformation Provence Silk Dress

$278

Buy Now

Isamaya LIPLACQ

$38

Buy Now

Lulu's Off-the-Shoulder Maxi Dress

$89

Buy Now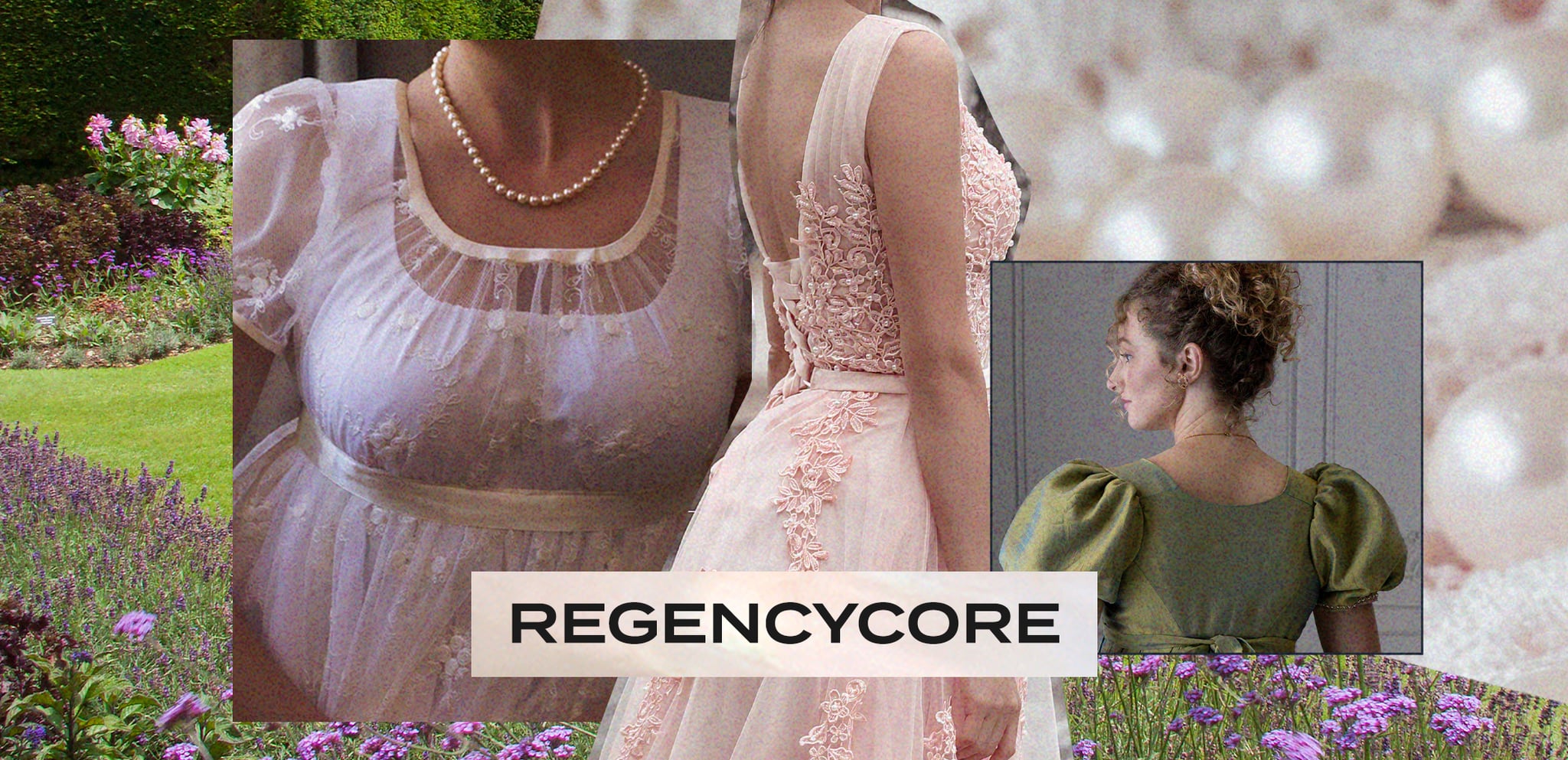 Trends come and go, and then given some time, come back around again. Regencycore is a perfect (albeit extreme!) example of this considering it stems from the early 1800s. It's an aesthetic based on signature pieces and silhouettes from the UK's Regency era, which is marked by years of elegance, art, and an emphasis on culture.
Today, regencycore translates into trends like empire-waists, baby-doll dresses, pearl embellishments, floral prints, opera gloves, and corsets. The look champions a hyper-feminine style that's both regal and romantic. If this is your chosen prom vibe, be ready to make a statement. Aim for any of the above hallmarks as well as gilded-age trends like full skirts, puff sleeves, candy hues, hair ribbons, and peplum.
A regencycore beauty look revolves around glowing, dewy skin. Makeup should be relatively minimal and fresh — think shades of pink and peach on lips, lids, and cheeks.
Selkie Long-Sleeve Dress

$399

Buy Now

Loeffler Randall Carmina Curve Dress

$395

Buy Now

Cult Gaia Nora Choker

$248

Buy Now

Free People Selkie The Ritz Dress

$399

Buy Now

MEJURI Bold Pearl Drop Earrings

$98

Buy Now

V. Chapman Organza Lace Corset Tiered Gown

$585

Buy Now

Reformation Belgium Linen Dress

$248

Buy Now

BCBGMAXAZRIA Tulle Corset Essential Gown

$498

Buy Now

STAUD Landscape Dress

$395

Buy Now

ASOS Puff Sleeve Maxi Dress

$182

Buy Now

Mac Duggal Tiered Empire-Waist Dress

$498

Buy Now

Loeffler Randall Ruffle High Heel Sandals

$395

Buy Now

Fame Partners Gathered Drop Waist Gown

$285

Buy Now

Anthropologie Modern Opera Gloves

$34

Buy Now

ASOS Satin Square-Neck Mini Dress

$64

Buy Now

Love Shack Fancy Gilvery Maxi Dress

$525

Buy Now

Amanda Uprichard Hunnie Dress

$246

Buy Now

Madewell Freshwater Pearl Barrette

$17

Buy Now

House of CB Puff Sleeve Midi Dress

$209

Buy Now

Charles Keith Beaded Satin Pumps

$83

Buy Now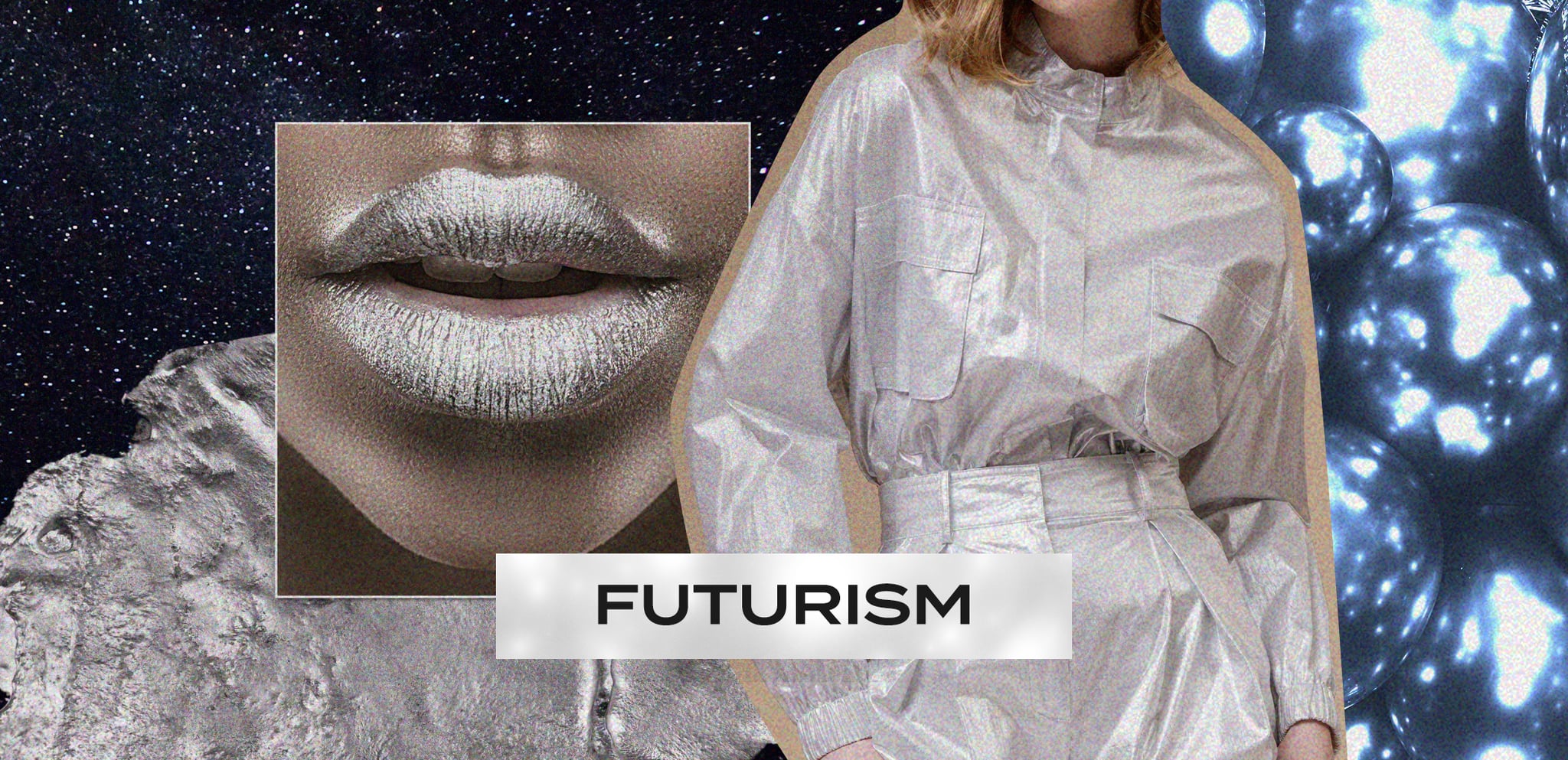 Just as current trends pull from the past, they also look to the future. Futurism is an other-wordly aesthetic that finds inspiration in an age of flying cars and space tourism. It's bold, it's sleek, and, as the name suggests, it's futuristic.
This trend heavily revolves around glitzy metallics (particularly all things silver), universe motifs, and bright patent leather pieces. Rooted in optimism for what lies ahead, when done right, futurism will have you feeling like an extraterrestrial rockstar. For prom, incorporate mesh panels, sequined embroideries, intricate silhouettes, cutouts, and of course, shimmery, reflective fabrics.
The beauty associated with futurism is just as fun and experimental as the fashion. Think: metallic eyelids, silvery lips, gemstone cateyes, and sharp contrasting lines.
Cynthia Rowley Shine Mini Dress

$425

Buy Now

Norma Kamali Strapless Drape Gown

$195

Buy Now

Tony Bianco Alessi Sandal

$160

Buy Now

Reformation Jeany Silk Dress

$328

Buy Now

En Saison Metallic Twist Midi Dress

$118

Buy Now

FWRD Jacqueline Sequin Dress

$477

Buy Now

UO Easy Peasy Face Gems

$8

Buy Now

ASOS Star Embellished Mini Dress

$113

Buy Now

Lovers and Friends Rosie Mini Dress

$178

Buy Now

Norma Kamali Asymmetric Halterneck Dress

$195

Buy Now

Cult Gaia Nala Mini Clutch

$428

Buy Now

ZHIVAGO One-Shoulder Metallic Mini Dress

$575

Buy Now

Eye Candy Los Angeles Crystal Drop Earrings

$45

Buy Now

Amanda Uprichard Marshall Dress

$246

Buy Now

Retrofete Embellished Mini Dress

$495

Buy Now

Sabina Musayev Mtallic Mini Dress

$429

Buy Now

Lulu's Teal Sequin Bodycon Dress

$49
from lulus.com

Buy Now

BCBGENERATION Salin Slide Sandal

$99

Buy Now

Dress the Population Sequin Long Sleeve Dress

$264

Buy Now

Retrofete Mary Dress

$421

Buy Now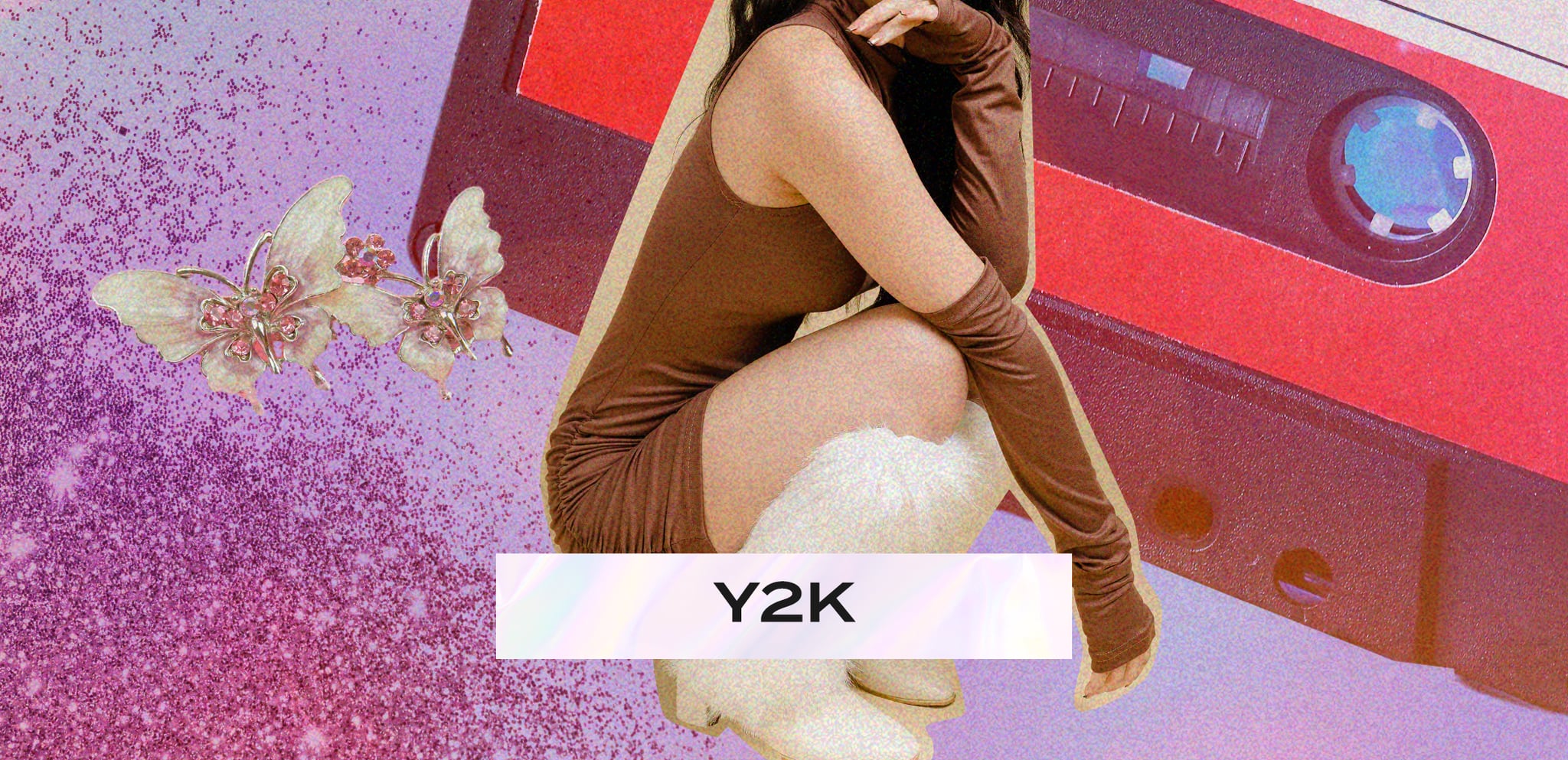 To no one's surprise, Y2K fashion is still going strong. Between the trend's bright colors, kitschy textures like plastic, and bedazzled pieces, the trend appeals to our playful, nostalgic side. While the name refers to the year 2000, the aesthetic also encompasses notes from the late '90s and early '00s.
Embodying this trend is about channeling pop culture at the turn of the millennium. Body glitter, body jewelry, cutouts, halter tops, and luminous materials are all fair game. Y2K-inspired looks are often larger than life, and for prom, they're not limited to just dresses. Try standing out in a two-piece set — maybe a low-rise sequin pencil skirt with a matching cropped halter top. Finish the look with strappy heels and, if you're really committing, a few butterfly clips.
Y2K makeup tends to be over-the-top with frosted eyeshadow, ombre lips, and iridescent highlighter. The shimmer and glitter isn't just reserved for the face either. Dust your collarbone and arms, too, for an authentic take on the aesthetic.
Staud Jenny Dress Multi Aura

$345

Buy Now

Song of Style Karlee Mini Dress

$228

Buy Now

Les Petits Joueurs Butterfly Bag

$750

Buy Now

UO Linden Satin Midi Dress

$99

Buy Now

Prabal Gurung One-Shoulder Cutout Dress

$995

Buy Now

Steve Madden Katya Dress

$80

Buy Now

ASOS Glitter Platform Sandals

$50

Buy Now

Lovers and Friends Rowan Mini Dress

$188

Buy Now

Vanessa Mooney Haven Butterly Necklace

$79

Buy Now

Lulu's Halter Cutout Maxi Dress

$88

Buy Now

Journee Collection Kammali Sandal

$100

Buy Now

DANNIJO Halter Maxi Dress

$595

Buy Now

Staud Etta Dress

$395

Buy Now

Claire's Butterfly Hair Pins

$10

Buy Now

Motel Tulu's Maxi Skirt

$65

Buy Now

Lulu's Sequin Fringe Maxi Dress

$88

Buy Now

Tony Bianco Serri Sandal

$170

Buy Now

Norma Kamali Walter Mini Dress

$225

Buy Now

Lemon Head Spacepaste

$22

Buy Now

Amanda Uprichard Feather-Trim Halter Dress

$334

Buy Now
Source: Read Full Article